PUBLIC ANNOUNCEMENT: NO SCHOOL 09/03/2021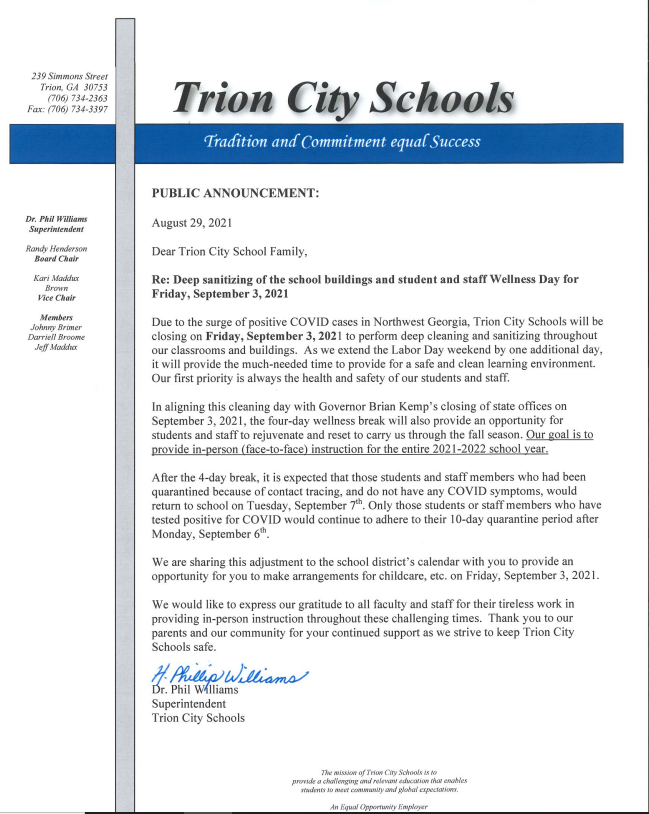 ---
239 Simmons Street Trion, GA 30753
(706) 734-2363 Fax: (706) 734-3397
Trion City Schools
Tradition and Commitment equal Success
PUBLIC ANNOUNCEMENT:
Dr. Phil Williams Superintendent
Randy Henderson Board Chair
Kari Maddux Brown Vice Chair
Members : Johnny Brimer , Darriell Broome , Jeff Maddux
August 29, 2021
Re: Deep sanitizing of the school buildings and student and staff Wellness Day for Friday, September 3, 2021
Dear Trion City School Family,
Due to the surge of positive COVID cases in Northwest Georgia, Trion City Schools will be closing on Friday, September 3, 2021 to perform deep cleaning and sanitizing throughout our classrooms and buildings. As we extend the Labor Day weekend by one additional day, it will provide the much-needed time to provide for a safe and clean learning environment. Our first priority is always the health and safety of our students and staff.
In aligning this cleaning day with Governor Brian Kemp's closing of state offices on September 3, 2021, the four-day wellness break will also provide an opportunity for students and staff to rejuvenate and reset to carry us through the fall season. Our goal is to provide in-person (face-to-face) instruction for the entire 2021-2022 school year.
After the 4-day break, it is expected that those students and staff members who had been quarantined because of contact tracing, and do not have any COVID symptoms, would return to school on Tuesday, September 7th. Only those students or staff members who have tested positive for COVID would continue to adhere to their 10-day quarantine period after Monday, September 6h.
We are sharing this adjustment to the school district's calendar with you to provide an opportunity for you to make arrangements for childcare, etc. on Friday, September 3, 2021.
We would like to express our gratitude to all faculty and staff for their tireless work in providing in-person instruction throughout these challenging times. Thank you to our parents and our community for your continued support as we strive to keep Trion City Schools safe.
H. Phillip Williams
Dr. Phil Walliams Superintendent Trion City Schools
The mission of Trion City Schools is to provide a challenging and relevant education that enables students to meet community and global expectations.
An Equal Opportunity Employer